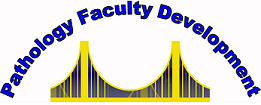 University of Pittsburgh / UPMC
Department of Pathology
The Department of Pathology at the University of Pittsburgh and UPMC is committed to providing an environment where our diverse and talented faculty members can achieve their full potential in each of the academic tracks available to School of Medicine (SOM) faculty. With the diverse roles played by our faculty in bridging two or more facets of this academic mission — education, clinical service, research, administration — there has never been a more exciting time to practice Academic Pathology.
The mission of the Committee for Pathology Faculty Development & Mentorship is to develop programs and resources applicable across Departmental Divisions to support the diversity of career stages and pathways within Pathology.
Upcoming Events
Archived Events
Ergonomics and Nutrition for Pathologists
Aug 30, 2021
What is new for Pitt Promotions for the Clinical Pathways?
Apr 29, 2020
Promotion at Pitt Med in an Educator Track
Aug 29, 2019
---